Day Porter Services near Omaha Lincoln NE – Council Bluffs IA
Omaha Commercial Cleaning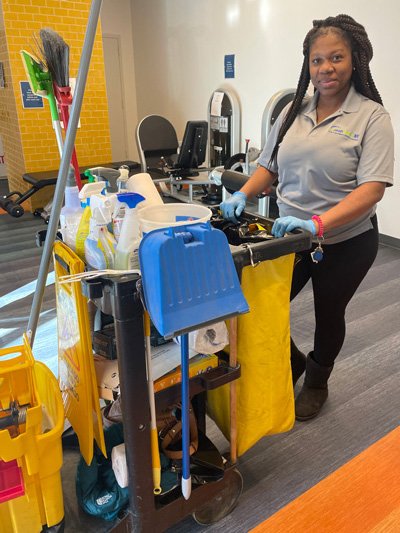 Commercial Porter Services for Clean Facilities
Is your business bustling? Not all professional cleaning occurs in the night or during off-hours. At Omaha Commercial Cleaning, we offer complete day porter cleaning services to keep your business clean, safe and operating smoothly.
Day porter services are typically performed during busy times. Porters deftly work in and around the public, monitoring both cleanliness and safety.
Unique cleaning needs. Our porter services include everything necessary to keep your business running smoothly throughout the day. Common porter services include:
First impressions matter. Nobody wants to walk into a business which is filled with trash and debris. We provide complete lobby management services, so everyone who walks into a location immediately feels right at home.
The specific services provided will depend on the location and even the weather. Our day porters are ready to sweep leaves out of a breezeway, provide mats to handle snowy boots and otherwise handle whatever Mother Nature wants to throw at the entryway.
We can also ensure promotional literature remains stocked and organized, directional signage is clear and updated, and the entryway remains well-lit with a comfortable temperature.
We're ready to repair any light damage such as structural damage, scuffs and other minor maintenance issues. Broken chairs, doors, windows and more are no problem. We're not just cleaning day porters… we're handy with tools, too.
We offer product restocking services for retail stores and similar locations. We can monitor on-shelf item quantity and ensure the shelves remain full even during periods of high traffic.
While we're not primarily a security service, our professionally-trained team can provide a second pair of eyes to help the on-site security professionals. As we monitor a location for maintenance and cleaning needs, we're also able to keep a watch out for unattended bags, suspicious activity and more.
These are just some examples of porter services we provide. If you're not sure what public-facing services might benefit your organization, contact us for a free consultation. We're happy to discuss the specifics of your situation and offer suggestions for how we can make your life easier!
Left unattended, public restrooms can turn into a disaster zone. But our team is ready to keep your restrooms clean and fully operational even during periods of high traffic.
Our maintenance professionals can handle any potential problem from small issues such as restocking toiletries to large issues such as complex plumbing maintenance. Even better, most maintenance issues can be handled without having to shut down the bathroom.
Ever been to a public place where the trash cans are overflowing? That certainly makes it difficult to properly dispose of your garbage. Porter services prevent trash from piling up.
We'll monitor all the trash cans in your location. Garbage will be quickly removed and taken to a dumpster or other larger disposal area. We can even handle removal of multiple recycling bins.
Of course, not everybody throws their trash away properly. Our team will provide total event coverage. We'll remove all trash, no matter where it's found, in a timely manner.
From grocery stores to sporting events and everything in-between, if food and drinks are served, spills are likely to occur. Aside from creating a mess, spills are also a significant safety hazard. Any slip and fall can not only cause serious injury to a customer or employee but can also be a legal nightmare for your business.
We'll monitor the location for any spills and act quickly to clean the floor. Of course, floor cleaning can also make a surface slippery. So we'll be ready with proper signs and barriers to help keep foot traffic out of any potential danger zones.
More Than a Local Porter Cleaning Company
Porters play a specialized role. Not only must porters understand the specifics of their duties, but they must also be experts in customer service. After all, customers and members of the public won't necessarily understand that the porter is a contract employee.
Omaha Commercial Cleaning porters are friendly, helpful and will be trained in the specifics of your event or business. They'll be able to answer common questions, give directions and generally provide customer service functions.
All of our employees are licensed, bonded and carefully screened. Our porters will be thoroughly trained for your business. As much as possible, we'll keep the same team of porters at your location so they'll be able to build up specific expertise over time.
Common Facilities for Commercial Porter Cleaning
For over many years, our company motto has remained No Job Too-Large or Too-Small. From small stalls to large malls, Omaha Commercial Cleaning provides full 24/7 porter cleaning services for practically every type of facilities and locations. Some common locations for portering services include:
General cleaning, maintenance, and product replacement services are very common in stores both large and small.
Office buildings typically require general cleaning, restroom management, and minor repair services.
From private to public airports, bus stations, train stations, transportation hubs, they all need to maintain a clean image and keep up with health and safety regulations.
Arenas, Convention Centers, Event Venues
Whether your venue offers space for events, conferences, or entertainment you know how crucial it is to keep up with all the foot traffic and usage of your facilities to give the best impression to all attendees and hosts.
Lobby coverage, floor cleaning, and restroom maintenance are often key services provided here.
Garbage removal, spill management, and floor cleaning are the three most common services needed in any food service area.
Get a Porter Service Near You Today!
Not all professional cleaning services occur at night or out of sight. Porter services help keep your location clean, safe, and well-maintained even when packed with customers. Our public-facing team of porters is able to provide excellent customer service combined with cleaning and preventative maintenance.
We provide services for basically any type of organization or location regardless of size. Check out our Service Area page for more information on coverage availability.
Interested in learning more about the benefits of porter services? Call Omaha Commercial Cleaning for the best porter cleaning services near you at (402) 810-6320 , or get in touch with our local commercial porters for a cleaning quote. We're available to answer your questions and concerns 24/7/365 about our services and locations– Contact us today!
Arlington NE Day Porter Services Near me
Ashland NE Day Porter Services Near me
Avoca IA Day Porter Services Near me
Avoca NE Day Porter Services Near me
Bellevue NE Day Porter Services Near me
Bennington NE Day Porter Services Near me
Blair NE Day Porter Services Near me
Boys Town NE Day Porter Services Near me
Carson IA Day Porter Services Near me
Carter Lake IA Day Porter Services Near me
Ceresco NE Day Porter Services Near me
Council Bluffs IA Day Porter Services Near me
Dunlap IA Day Porter Services Near me
Eagle NE Day Porter Services Near me
Elkhorn NE Day Porter Services Near me
Fort Calhoun NE Day Porter Services Near me
Fremont NE Day Porter Services Near me
Glenwood IA Day Porter Services Near me
Greenwood NE Day Porter Services Near me
Gretna NE Day Porter Services Near me
LA Vista NE Day Porter Services Near me
Lincoln NE Day Porter Services Near me
Logan IA Day Porter Services Near me
Louisville NE Day Porter Services Near me
Malvern IA Day Porter Services Near me
Mead NE Day Porter Services Near me
Missouri Valley Ia Day Porter Services Near me
Murray NE Day Porter Services Near me
Oakland IA Day Porter Services Near me
Omaha NE Day Porter Services Near me
Pacific Junction IA Day Porter Services Near me
Papillion NE Day Porter Services Near me
Plattsmouth NE Day Porter Services Near me
Ralston NE Day Porter Services Near me
Springfield NE Day Porter Services Near me
Underwood IA Day Porter Services Near me
Valley NE Day Porter Services Near me
Wahoo NE Day Porter Services Near me
Waterloo NE Day Porter Services Near me
Weeping Water NE Day Porter Services Near me
Woodbine IA Day Porter Services Near me
Yutan NE Day Porter Services Near me